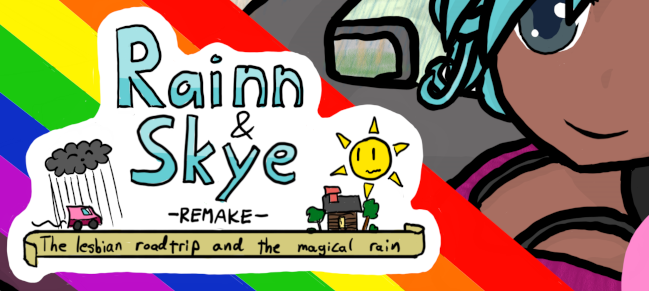 Rainn and Skye
A downloadable game for Windows and Linux
Girls' road trip to a forest cabin in never-ending rain.
You're Rainn, Skye's girlfriend. Skye has gotten you two a forest cabin for the next few days, and you're tasked to drive there with her — on yet another rainy day.
The road trip features chill driving while chatting with Skye about some likely and unlikely circumstances. And, perhaps, there will be something nice at the forest cabin too once you get there...
Controls
Control the car with WASD and the camera with mouse. You can toggle the in-game menu with Esc. If you have a gamepad, you might want to use that for smoother controls.
System requirements
Ideally an OpenGL 3.1 capable graphics card, a quad core CPU and 2 GB of free RAM. The game may work on a bit older hardware too, though the performance might be poor.
Who made this?
I'm a geeky dyke, a lesbian lizard and an independent game developer. I make LGBT+ themed games, primarily about and for queer women.
I would like to thank my Patrons for making the remake possible:
Peter "Wraithkal" Christiansen @Wraithkal
Toby Alden @tobyalden
Seriously Dev @SeriouslySenpai
--
This game was originally a submission for Rainbow Jam 2019. It was developed in just 10 days. In 2021, I remade the game for the Queer Games Bundle 2021.
Download
Click download now to get access to the following files:
Rainn and Skye - Windows.zip
60 MB
Rainn and Skye - Linux.zip
65 MB
Comments
Log in with itch.io to leave a comment.
The drive kinda scared me to death, lol. The car handling is quite... "unique", shall we say (a mix of boat and snowmobile? KB+mouse here though), so I was always afraid I'd crash and kill both me and my cute girlfriend while drifting around on the highway. ;) That's especially true since Skye expects me to look at her to continue the conversation during the drive... "God, girl, I seriously need to look at the road, or we're going to die any moment!!1" ;)

Thank god we both got to the cabin in one piece. ;p
It was really sweet and cute though, especially at the cabin! :)

On a side-note: I know nobody will be interested in this, but as the game bundles OpenJRE 11, it will fail to run on ancient versions of MS Windows (like XP). If you have an Oracle JRE/JDK 1.8 installed though, you can still run it: Open a cmd terminal, enter the game folder, and execute: javaw.exe -jar "game\game.jar". It'll work, doesn't need any Java 11 exlusive stuff. :)
Cheers!

Yeah, the controls are a bit wacky. It's a bit more bearable with a gamepad, though not that much. But it's not as bad as the original at least!

I guess it's a bit hard to tell, but you don't actually need to look at Skye. Even when the game asks if you'd like to, you don't have to. The dialogue will be a bit different if don't, but not in a punishing way. The only punishment is that you can't see her reactions if you never look at her. :3
I'm glad you liked this cabin scene. It was fun to make. :)

Eeeee, I love it! By far my favorite of your works that I've played so far!! Adorable and moody and super well animated and cute as heck! With the perfect ending~~~
Not sure if this is intentional or not, but once I got to the fade-to-black during the kiss the game seemed to just hang? I had to quit by just closing it.
Didn't interfere with my enjoyment in any way, but I thought I'd let you know! ^_^
Yeah, it's kind of intended because I didn't have time to create a proper ending back when I made the game for the game jam. That might change somewhat soon, though, because I have actually been working on a remake of this game lately... :)
Hey,
i played your game on my channel